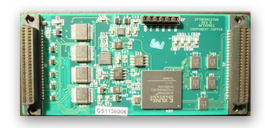 Volume VII – Announcing the Release of the MIP-Therm, Drop-in-replacement for the GE-IP IP-THERMISTOR
Featured Product
MIP-Therm – IndustryPack Thermistor Module Merlin Embedded announces the release of the MIP-Therm IndustryPack Thermistor Module; a drop-in-replacement for the GE-IP(SBS) IP-THERMISTOR
The MIP-Therm IndustryPack replaces the SBS IP-THERMISTOR from GE-IP. The SBS IP-THERMISTOR has gone obsolete and has reached its end of life. Merlin Embedded has designed and produces a true Drop-in-Replacement (DIR) that is form, fit, and function compatible with the SBS IP-THERMISTOR. This is a new, pin-for-pin compatible, equally functional product, that will provide users of the SBS IP-THERMISTOR a seamless replacement with no software or cabling changes to their system.
The module provides 16 channels of temperature input for thermistor-based sensors. The circuit functions as a complete solution for integrating thermistor circuits in an IP-std platform. Thermistors are negative temperature coeffient resistors; as temperature sensed increases, resistance value decreases. The module provides a stable current source and measures voltage drop across the sensor into the 16 channels of ADC inputs. The module then performs, buffering, S&H, control and conversion. There is no external function required, such as timing, signal conditioning or ADC.
All other features and capabilities that were available on the SBS IP-THERMISTOR are standard on the MIP-Therm IndustryPack.
As with all Merlin Embedded DIR products, the MIP-Therm IndustryPack has the same, or better, functional performance than the product it is replacing. All Merlin Embedded products are backed by a 2-year warranty and 15 years of life-cycle support. The user will not have to take on any obsolescence issues when utilizing Merlin Embedded products.