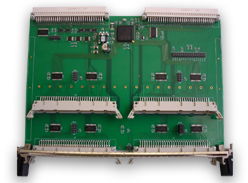 Volume VIII – Announcing the Release of the MVME2528, Drop-in-replacement for the GE-IP VMIVME-2528
Featured Product
MVME2528 – 128-bit TTL Digital I/O Module Merlin Embedded announces the release of the MVME2528; a drop-in-replacement for the GE VMIC VMIVME-2528
The MVME2528 replaces the VMIVME-2528. The VMIVME-2528, originally from GE (VMIC), has gone obsolete and has reached its end of life. Merlin Embedded has designed, and produces, a true Drop-in-Replacement (DIR) that is form, fit, and function compatible with the VMIVME-2528. This is a new, pin-for-pin compatible, equally functional product, that will provide users a seamless replacement with no software or cabling changes to their system.
The register map is exactly the same as the VMIVME-2528, to guarantee software compatibility. The I/O connections are also the same as the VMIVME-2528 allowing the same cables to work with the Merlin Embedded MVME2528.
128 channels of Digital I/O
Arranged in 16, 8-bit Ports
Each bit can sink an output Current of 24mA max
It conforms to VME Specifications Revision C.1 IEEE Std. 1014-1987. A conduction-cooled version is available. Conformal coating is standard on all Merlin Embedded products.
As with all Merlin Embedded DIR products, the MVME2528 as the same, or better, functional performance than the product it is replacing. All Merlin Embedded products are backed by a 2-year warranty and 15 years of life-cycle support. The user will not have to take on any obsolescence issues when utilizing Merlin Embedded products.