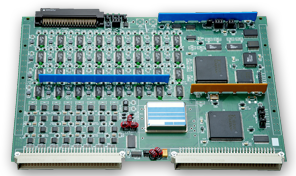 Volume V – Announcing the Release of the MVME110, Drop-in-replacement for the GE-IP ICS-110
Featured Product
MVME110 – 24-bit Data Acquisition VME Module Merlin Embedded announces the release of the MVME110; a drop-in-replacement for the GE ICS-110BL
The MVME110 replaces the ICS-110BL from GE-IP. The ICS-110BL, originally from Interactive Circuits and Systems, has gone obsolete and has reached its end of life. Merlin Embedded has designed and produces a true Drop-in-Replacement (DIR) that is form, fit, and function compatible with the ICS-110BL. This is a new, pin-for-pin compatible, equally functional product, that will provide users of the ICS-110BL a seamless replacement with no software or cabling changes to their system.
The MVME110 data acquisition module has 32 channels. Each channel provides 24-bit, 128kbps Analog-to-Digital Converters ADC, 64 bit FIFOs and can be accessed via, VME, FPDP or VSB interfaces.
Merlin Embedded can provide equivalent mother-daughter card module configurations. The mother card module provides acquisition, MUX functions, ADC, timing and interfacing, while the daughter card module performs the signal gain conditioning and filtering functions.
Highlighted features and performance characteristics for the MVME110 Data acquisition Module:
32 Channels
24-bit Sigma-Delta A/D Converters
Simultaneous 128 kbps Sampling Rate….(Improved over ICS-110)
External Or Internal Clock and Trigger
Internal Clock Programmable in steps of less than 20Hz at output frequency
>105 dB S/N, signal-to-noise Ratio including harmonic distortion and crosstalk
64k-word FIFO storage
CAN interface with VME, FPDP, or VSB
Internally stored, externally inject access of test signals
All other features and capabilities that were available on the ICS110BL are standard on the MVME110.
As with all Merlin Embedded DIR products, the MVME110 has the same, or better, functional performance than the product it is replacing. All Merlin Embedded products are backed by a 2-year warranty and 15 years of life-cycle support. The user will not have to take on any obsolescence issues when utilizing Merlin Embedded products.