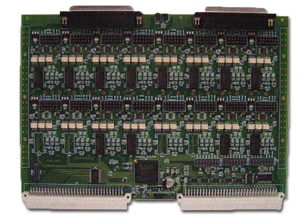 Volume IV – Announcing the Release of the MVME4150, Drop-in-replacements for the GE-IP VMIVME-4150
Featured Product
Merlin Embedded Announces Release of the MVME4150 Analog Output VME Module
The MVME4150 replaces the VMIVME 4150 from GE-IP SBS. The VMIVME-4150 has gone obsolete and has reached its end of life. Merlin Embedded has designed and produces a true Drop-in-Replacement (DIR) that is form, fit, and function compatible with the VMIVME-4150. This is a new, pin-for-pin compatible, equally functional product, that will provide users of the VMIVME-4150 a seamless replacement with no software or cabling changes to their system.
The MVME4150 is an analog output module. It's 12 channels (16 Channel model available) are galvanically isolated up to ±1000V, channel-channel and channel-VME bus.
As a drop-in-replacement to the VMIVME4150, the voltage outputs are protected to ±20V indefinitely; transients to ±50V and can be configured to provide current loops for ranges of 4-20mA, 0-20mA, or 5-25mA.
The Channels are front panel accessible.
The module can be configured with up to, 16 channels.
The Unit complies with VME bus specification ANSI/IEEE STD 1984-1987 IEC 821 and 297.
6U Form-factor
All Merlin products are conformally coated and can be conduction-cooled.
The module can be ordered to be configured with 16-bit resolution.
As with all Merlin Embedded DIR products, the MVME4150 has the same, or better, functional performance than the product it is replacing. All Merlin Embedded products are backed by a 2-year warranty and 15 years of life-cycle support. The user will not have to take on any obsolescence issues when utilizing Merlin Embedded products.